Ancient History Parts I and II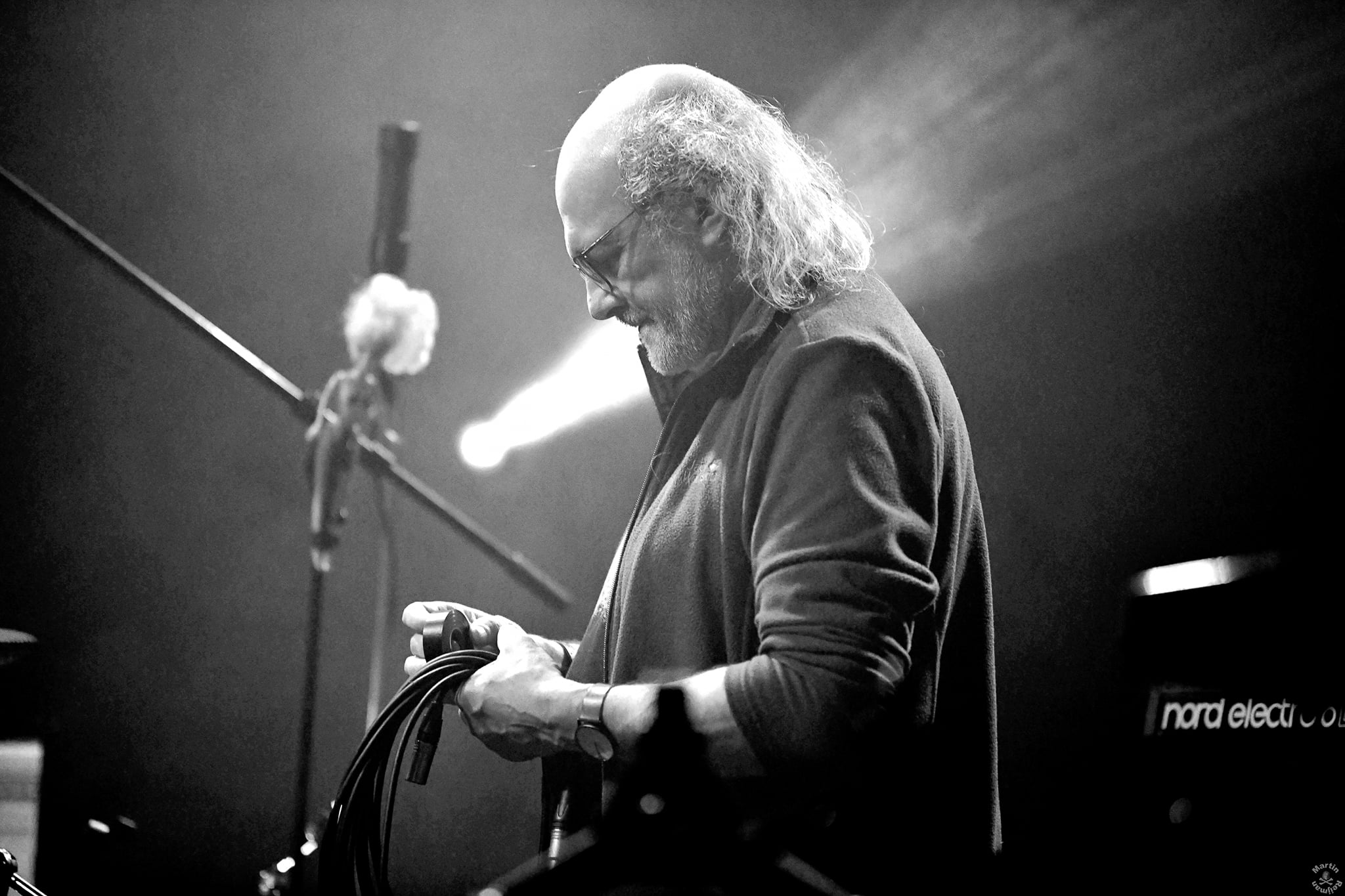 Steve was brought up in Hull in North-East England, and started his musical journey by starting to learn piano aged five. He practised for more than a decade, only losing interest when his piano tutor died. Violin would have added another string to his bow "but I never got very far with that" he jokes. At sixteen he transferred his interests to guitar, and initially, bass guitar.
"Because I was just a kid,and skint with it, I didn't have the money to buy a bass amp, so I decided to make my own" Steve recalls.Managing this left him with an interest in electronics that would last a lifetime.
Steve played in "dodgy metal bands" in the late seventies while studying for A levels, and all that rock must have become addictive, because by 1980 he was heading south to London to study Geology at the City of London Polytechnic (now Guildhall University). He managed a Bsc(Hons) , with physics and computing ancillary subjects.
He found that out of 5,000 students only two would admit to having any knowledge of how a mixing desk worked, so was very much in demand for live music, and by the time his three years of study was over Steve was also an experienced hand in managing sound at gigs – so much so that he was offered a job in a recording studio, Village Way Sounds, in Rayner's Lane, Harrow.
As a full-time assistant engineer, the full glamour of showbiz eluded Steve. "it was more a case of sleeping on the floor" he ruefully recalls.

Steve became involved professionally in the music business in 1981, when he started running PA Systems  for students union events. On graduation, Steve worked at Village Way Recording  in Harrow and then Tin Pan Alley Studio in Denmark St, Soho where he worked until 1986.

By the mid-1980s Steve had the chance to work with a wide variety of people and projects. He and fellow engineer Roy Rowland worked with Producer Steve James, whose rather more famous dad was comedy star Sid James of "Carry On" fame.
"I recorded a whole bunch of stuff with metal bands such as Blind Fury, Satan and Rogue Male – then found myself at a studio in Harrow recording Norman Wisdom performing "Don't Laugh at me Cause I'm a Fool".
"Rick Wakeman was on keyboards and the session was funded by "Diddy" David Hamilton" Steve recalls.
During this period, Steve and Doc Stewart recorded several rockabilly albums for Nervous Records, which have now become classics of the genre, and are incredibly sought after, particularly in Japan.
With Roy Rowland producing, 1987-8 saw Steve as 1st engineer for the British thrash metal band Sabbat's album "History of a Time to Come", where Steve was nicknamed 'The Rock". This was another album regarded as a classic genre-defining work. Following this project, Steve left England to work for Noise Records in Berlin for a year at Skytrak Studio.
Steve returned to the UK in late 1989, and became more involved with live  productions, working with Kingmaker for Chrysalis, Pendragon for Toff Records  and Threshold, for Inside Out amongst many others. An offer to  help develop The Bottom Line club in London led to a few years working with  internationally renowned Blues artists, but the shareholders eventually sold  the business on.
Sensible Music  offered an opportunity to work with Clair Brothers systems, with artists including  Tina Turner, Elton John, Sly and Robbie, Mick Taylor, Snowy White…
Returning to  recording in 2002, Steve worked with clients including Asia, Uriah Heep, Martin Turner's Wishbone Ash and Roger Chapman, as well as many up-and-coming bands such as Virgil and the Accelerators, Mitch Laddie, and Silverbox and Nathan James
Maintaining  the Live side, current clients include: The Carl Palmer Band, Greg Lake, Family (with Roger Chapman), Lifesigns, Chris Norman, Fish, Asia, Mostly Autumn, and Harley-Davidson.

Steve worked FOH for 12 years, for the internationally-renowned guitarist Alvin Lee, until Lee's recent tragic death at the age of 68.