Asia was formed in 1981 as a supergroup of four members from different progressive rock bands, with John Wetton (former bassist/vocalist of such bands as King Crimson, Roxy Music, and Uriah Heep), Steve Howe (guitarist of Yes), Geoff Downes (pctured below, keyboardist of Yes and The Buggles) and drummer Carl Palmer (of Emerson, Lake & Palmer, The Crazy World of Arthur Brown, and Atomic Rooster).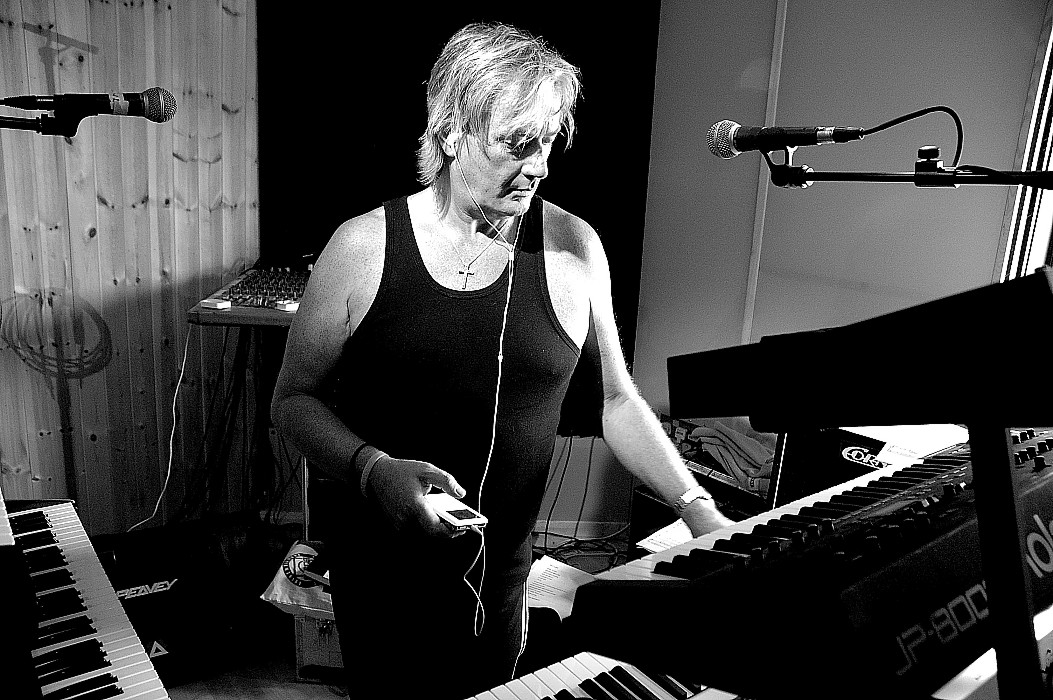 In mid-2007, Wetton, Downes, Howe and Palmer went into the studio at Liscombe to record a new album, marking the first recorded material from all four original members since 1983's Alpha, with Steve Rispin engineering and Co-Producing.
The band continued to tour until major heart surgery for Wetton in the second half of the year saw remaining tour dates rescheduled for 2008. The new studio album, entitled Phoenix, was released on Frontiers Records on 14 April 2008 (via EMI/Capitol on 15 April in North America), along with a world tour to promote. The 12-track album includes "An Extraordinary Life", based on Wetton's experience of ill health; rockers such "Never Again" and "Nothing's Forever"; and power ballads such as "Heroine" and "I Will Remember You". The world tour also featured a couple of the new songs. The album cover featured Dean's illustration and design. The Phoenix album did well in both the American and European/Japanese markets. It debuted at No.73 American Billboard 200; the band had not charted with a studio album since 1985.
Asia returned to the Liscombe Park for the Omega album and XXX, both produced by Mike Paxman and recorded by Steve.
In early 2013 Steve Howe announced his retirement from the band to focus on other projects, including Yes, bringing an end to the reunion of the original lineup. Asia announced they would be continuing on with new guitarist Sam Coulson, with a new album in the works entitled Gravitas.
Over the course of 2016, John Wetton underwent more surgery and chemotherapy for an abdominal tumour. Despite a late rally, he passed away 31st January 2017.
Billy Sherwood, already replacing Chris Squire in Yes, has been chosen as the new Asia member.
On the last American tour, Ron Bumblefoot Thal was recruited for lead vocal and guitar.